This past Sunday, our community center gym was alive with chatter and excitement in anticipation of the Crispus Attucks 86th Annual Meeting. Over 100 people from around the area filled the room to hear what we've been up to this past year.
Center for Employment & Training Director Rev. Mike Jefferson emcee'd the afternoon and introduced Board of Directors Vice President Darrien Davenport to give the official welcome. Embracing the theme of "Celebrating Our Past, Connecting to our Future," Jeffrey Kirkland, Crispus Attucks Association friend and history buff, laid out 85 years of our organization's rich history and deep roots in York.
With an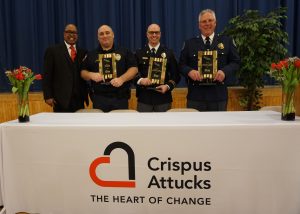 introduction centered around the theme of "bridging the gap" by Judge John Uhler, three local police department heads were each recognized with the Heart of Change Community Service Award for their roles in helping bridge the gap between police and minority communities in York. Springettsbury Township Police Chief Daniel Stump expressed his heartfelt appreciation for the award and his commitment to working with organizations like Crispus Attucks:
"If you have pure motives and a good heart, people will surround you because we all have the hope of having a better community," Stump said.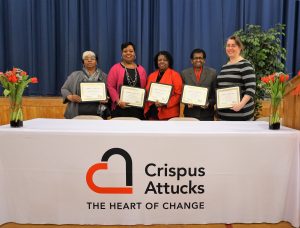 Next, Crispus Attucks staff celebrating milestone years of service, ranging from five to 25 years, were recognized for their achievements. Much to her surprise, Deb Kopecki, CA's HR Director the past 43 years, was also recognized for her many contributions and friendship, an emotional moment for all. Finally, to show our appreciation for some of our dedicated volunteers, we recognized ten more people and groups, including the Country Club of York and Women Living United, for all of their hard work.

We're certainly grateful for and rely on the support of our community. To another year!
Photos by Chip Dalton. To see more photos, check out our Facebook.