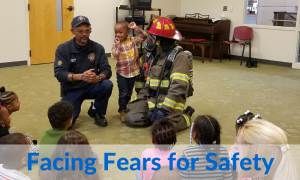 In honor of Fire Safety and Prevention week, the Early Learning Center invited firefighters Maxfield and Spangler from the York City Department of Fire and Rescue Services to teach the youth how to respond in different emergencies. These lessons focused on the basics of when and how to dial 911 and what to do in the case of a fire. The most important and difficult lesson involved teaching the students to recognize firefighters in their uniforms as the good guys.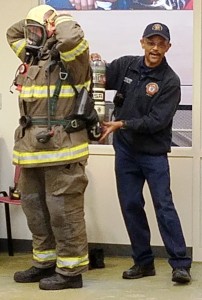 Maxfield and Spangler worked as a team to slowly incorporate the 100 pound uniform. As Spangler added each piece, Maxfield explained its function. The students were excited at first but grew more hesitant with every piece of equipment Spangler added.
The self-contained breathing apparatus (SCBA) often causes the most alarm because it makes firefighters sound and look subhuman. Spangler and Maxfield worked to overcome this fear through a role-playing demonstration.
Maxfield's grandson, who has grown up learning about firefighters from Maxfield, was the only student brave enough to play the victim rescued by Spangler.
Maxfield remarked that Jah'Syr is definitely not shy and has seen all of the equipment before. This familiarity didn't stifle Jah'Syr's excitement at being able to work alongside his grandpa or see the fire truck.
The other students were equally excited to learn about the fire engine and its gadgets. They even got to see the firefighters' "key to the city," a special axe used to break into burning buildings.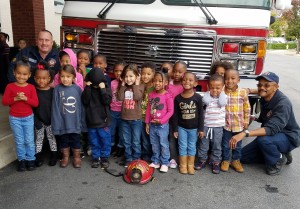 Overall, the day was a success. The students learned that superheroes come in all shapes and sizes. To Jah'Syr in particular, his superhero features a mustache and glasses, and retires the cape in favor of a 100 pound uniform.