At Crispus Attucks, we actively pursue stronger relationships between police and the community through various initiatives. Regular events like the Sheriff's Program during the Rising STARS Afterschool Program brings in members from law enforcement to speak to youth to promote two-way dialogue and active discussion. At our Annual Meeting this past March, we recognized three local officers for their work in "bridging the gap" between police and the people they serve.
We vowed to work together to keep the conversation going to improve relationships. So, we were encouraged to see these efforts being made outside of CA, too, as evidenced by a recent encounter by one of our staff. Here's the story: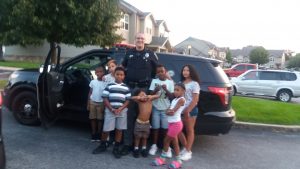 A few weeks ago, Charter School staff member & long-time CA-er Val Foreman was riding her bike around her neighborhood when an inspiring sight caught her eye: she saw a group of youth gathered around a police car. The officer was showing them the lights on his car and handing out stickers, and the kids were loving it! The encounter was totally unplanned and by chance, and Val was heartened to see a positive police-community relationship blossoming before her eyes–she had to take some photos and do some more digging! Val found out the officer is Cory Landis with Springettsbury Township Police Department. It's one thing to SAY we will work together with police…it's another to SEE it happening right before your eyes!