As summer ends we're forced to say goodbye to our hardworking interns. Each year we take dedicated students who are interested in building their skills while bettering our community. Behind the scenes, these students are a large support and increase the impact of Crispus Attucks programs. We accept students with various interests from business, English, public relations, history, graphic design, and other majors to participate in our unique internship program. Interns have an opportunity to not only gain real world experience, but also to influence projects going on at Crispus Attucks. Young minds drive new ideas and we are guiding and supporting them to benefit York County through Crispus Attucks. If you know of a student looking to gain work experience, see the list of available internships.
Alexa Cohen used her event planning knowledge to help the Wingstock committee prepare for the annual fundraiser. She was able to add to her portfolio with the social media and marketing materials she produced. We were so happy to have her hardworking creativity on our side, she even came back after graduation to volunteer at Wingstock.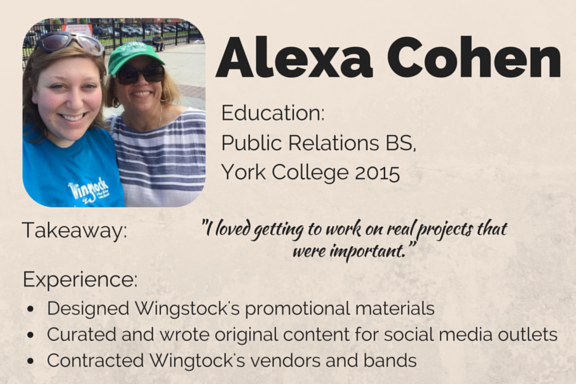 Anthony Hake supported Community Development Director, Carol Kauffman, with research, content writing, grant writing, and marketing material design for the Goodridge Freedom Center. He got to use his professional research and writing skills as he searched York County's archives for evidence of William C. Goodridge's property holdings in the 1850s. He also designed brochures to inform the public about Goodridge's impact on York's History.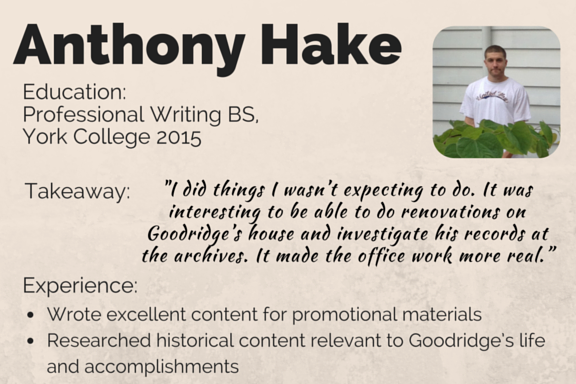 Ngozi Amaechi joined us to help plan the 85th Anniversary Celebrations for next year before venturing to Georgetown for grad school. Ngozi created the strategic foundation for events that will celebrate Crispus Attucks' monumental anniversary. She was happy to be able to serve an organization whose programs she enjoyed when she was younger.
Amber Becker grew her administration skills by helping the development director. Amber gained real work experiences to add to her resume and talk about in interviews. Her hard work accomplished so much to help Crispus Attucks succeed with fundraising and staying connected with our friends and donors.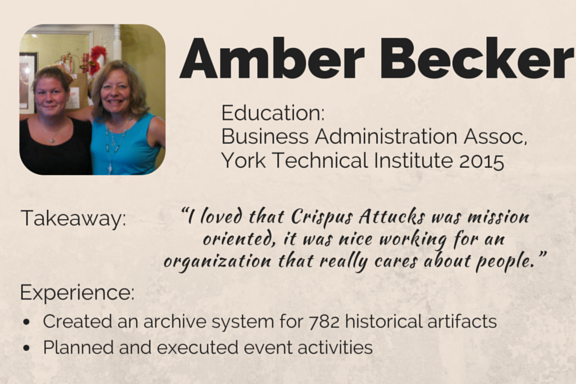 Check out our open internship opportunities. To learn more about our internship opportunities contact Donna Chandler, 848-3610 x 280 or dchandler@crispusattucks.org.