Forty chairs sat open and waiting in the quiet auditorium of the Crispus Attucks Charter School. Supportive friends and families were already seated and excitedly waiting for the trimester graduation ceremony to begin. As the students filed in, the room filled with soft chattering that eventually turned into a sea of friendly remarks and talks between peers. This is when I had the opportunity to meet a young woman by the name of Preijanae.
When asked why she chose to attend Crispus Attucks, she responded by saying that she had heard it was a good school from her sister who had previously attended the school herself. After coming here, Preijanae found her sister's claims to be true. The small, close-knit community within the school, along with the great teachers, she says, created an environment in which she could ignore the drama while focusing on the school work.
Jasmine Morrero, one of the graduating students who had walked the stage, commented similarly saying that she had chosen to attend the school because she was drawn to the friendly and welcoming environment. Entering the school, she had felt an immediate sense of fitting in, which allowed her to focus on her academics without distraction. Being focused seemed to be a recurring theme as one of the other graduating students, Bryan Diaz, mentioned that the key to his graduation was focusing and working hard.
As these students walked the stage to receive their certificates (with the exception of Preijanae, as she is anticipated to graduate in June) they were cheered on by their fellow peers who, at the end of the day, are working to be in the same shoes as them. Although their time here at Crispus Attucks is nearing its end, we hope that our graduates continue to carry on all the lessons that they have learned with them as they move on to greener pastures.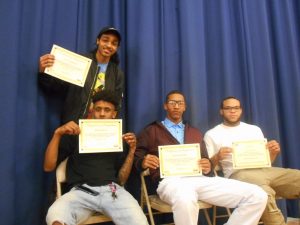 Following graduation, Jasmine plans to attend Empire Beauty School for cosmetology, while Bryan plans to follow in his father's footsteps by becoming a police officer. After her graduation in June, Preijanae plans to pursue a professional career in kinesiology with the intention of working in the field of athletics. As Mr. Newby—a new first-year teacher at Crispus Attucks—stated during the ceremony: "these students are hungry and eager," and with the determination for success seen in this year's graduating students, that type of statement can hardly be denied.