Some could argue that Valentine's Day, like other annual holidays, gets old, but at an organization that provides services to those ranging anywhere in age from three months to 60 and above, holidays tend to be celebrated in different—and sometimes surprising—ways.
At the Early Learning Center, Pre-K Counts had a special storybook reader, Paula Gilbert, share her favorite Valentine's Day picture books. Mrs. Gilbert, who is Director of Youth Services at Martin Library, is a pro at engaging children in learning. She came prepared with a curiosity-peaking bag of new books and a host of funny and entertaining voices to bring the characters to life.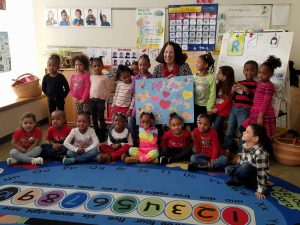 In between reading favorites like Little Mouse's Big Valentine and One Zillion Valentines in her amusing voices, Mrs. Gilbert led the students in chants complete with hand motions to snip, fold, paste and deliver imaginary valentines.
Once the final story was over, the students showed off their real valentine-making skills by presenting Mrs. Gilbert with a giant card they had created as a class.
Of course, Pre-K Counts students weren't the only ones celebrating. Down the street at the Active Living Center, our seniors had their own unique Valentine's Day party.
In comparison to the Pre-K Counts classroom, the Active Living Center seems overwhelming.
The center, brimming with seniors catching up and enjoying the party treats, shakes with popular music.  A couple seniors, taking full advantage of the popular hip-hop and R&B songs blasting from the speakers, swing dance to Wobble Baby and the Cupid Shuffle.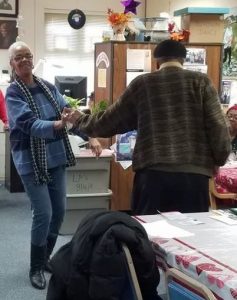 Although some seniors had loved ones far away, they were far from alone to celebrate the heart-filled holiday. Instead, seniors enjoyed a cross-generational Valentine's Day, appreciating their pasts along with the present community they've invested in at the ALC.
At the Early Learning Center, students might have enjoyed a cross-generational Valentine's Day too, if had they listened closely enough for the thumping music and conversation floating out of the ALC.