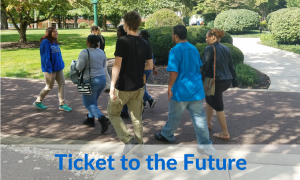 I felt like I was boarding an all-too-familiar train. I left my desk to shadow a group of Crispus Attucks Charter School students on their tour of York College. Though the campus was familiar to me, the students were getting a first glimpse of where the future could take them.
The future is both daunting and exciting, but to students attempting to make post-graduation plans, it often leans more toward the daunting side. I've experienced its contradictory nature after graduating high school, and I'm still wrestling with it now, post-college.
During the tour, the CACS students also attempted to unpack the abstract meaning of the future.
Despite this shared challenge, we still started off as strangers and I thought I would spend the day on the fringe of the group as the CA intern awkwardly snapping pictures for the CA Facebook page. I didn't expect them to open up, and I certainly didn't expect their stories to impact me in such a deep way.
The six students I met had different reasons for attending college. They had experienced different hardships of which I could never relate and, in many ways, they had a more grounded approach to the future than I did at their age. For this reason, they were even more captivated by Irene Hudson's inspiring advice at the outset of our tour.
Irene, the York College Community Scholarship Program (YCCOSP) Program Director, shared that "Each person is powerful beyond measure," but too often people remain poor because they "Pass Over Opportunities Regularly." Irene insisted that there are multiple paths leading to one's future goals, but only an opportunist can take advantage of them.
How exactly do we handle the future and his mischievous cousin, opportunity?
Step 1: Manage Your Expectations
First and foremost, you must take inventory of your expectations.
I lug my expectations around like a bag of tools; they shape how I view and react to situations and people. For this reason, they can be extremely useful, but they can also be crippling.
Senior year of high school, my hopes of establishing my independence somewhere shiny and new led me to view colleges in my hometown as dirty socks. My view couldn't have been further from that of the CACS seniors.
They viewed York College as an oasis; it was a sanctuary where they could pursue a better life while staying connected with family. They were star-struck at the variety of extracurricular activities and they saw great potential for personal growth, where I had seen none. To some of them, being able to attend college at all was a blessing.
Seeing how they viewed York College made me realize how much my expectations had  blinded me with ungratefulness. They had made me discredit the benefits of staying close to family and networking in my local community. Consequently, I had missed opportunities to establish myself in York and give back to a city that will always be close to my heart. Worst of all, my expectations had made me take for granted the opportunity I had to attend college in the first place.
Step 2: Change Your Perspective
Once the detrimental expectations have been cleared away, it is necessary to change your perspective of yourself.
I harshly categorize my traits as either assets or drawbacks. This black and white mindset squanders my opportunity for true improvement. I didn't realize I had fallen into this rut again until I spoke with one student named Martha.
Martha had the most unique reason to attend college: to provide for her mom and give her mom the life she couldn't have. Coming from a Spanish-speaking home, Martha feared that her struggles with English would prevent her from earning a degree. Like me, she had fallen into a black and white mental rut where her Spanish-speaking was a drawback.
Conversely, I viewed my unilingual English-speaking as a drawback. We both coveted what the other had and in doing so, we discredited our abilities and ignored opportunities for thorough improvement. Changing our perspectives enabled us to appreciate our individuality and better grasp what we have to offer and what we have to work on.
Step 3: Embrace Fluidity
I must confess that I am a control freak when it comes to my future. I want my visions and plans to come to fruition how and when I imagine they will. This micromanagement has often resulted in frustration and disappointment. The seniors I met, similarly to Irene  the YCCOSP Program Director, had accepted that there were multiple paths leading to their future goals, and they weren't afraid to take detours.
Eric and Adriana in particular are both open to alternate routes. Eric is maturely considering working for a year in order to save for college; Adriana plans to attend HACC to conquer her general education requirements before deciding the next step for her education.
In my haste to reach my destination, I had forgotten how to be wooed and wowed by the future and his mischievous (sometimes spontaneous) cousin, opportunity. Instead of sticking to the exact steps they had imagined, Eric and Adriana embraced change and side routes; what I had seen as off ramps, they saw as scenic opportunities.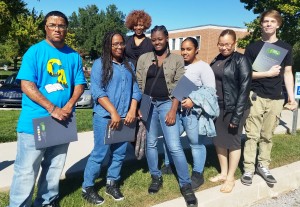 Over the course of one day, these six seniors became more than just another Facebook post. They changed my outlook, and for that, I am grateful. I am also now quite aware—and slightly embarrassed—of the number of opportunities I have categorized as dirty socks. Thanks to these seniors, I know exactly what the future holds for tomorrow: laundry day.
Signed,
The Intern