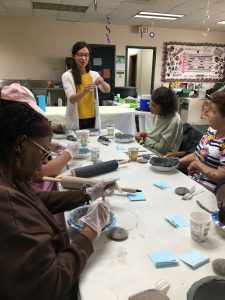 Our Active Living Center is more than just a place for senior citizens to spend their time. A major focus of ALC programming is keeping seniors active and healthy, just as its name suggests. So when our friends at Creative York approached us for a partnership focused on embracing aging, we jumped at the opportunity! Thanks to a grant they received from the York County Community Foundation, the seniors at our ALC have been engaging their hands and minds with clay art (and creating some real masterpieces) every second and fourth Tuesday of the month since early Septemb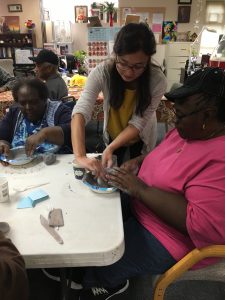 er.
The benefits of these ongoing workshops, taught by Creative York resident artist and teacher Stephanie, are twofold. First, using their hands to work the clay has been therapeutic for some of the senior participants who suffer from arthritis and other conditions. Caroline Smith (pictured right), for example, has been wearing a wrist brace to ease an injury. Although she felt some cramps in her hand during the first clay workshop, Smith hopes that working with clay on a regular basis will help her work through the issue and avoid physical therapy. Other seniors had to rest their hands every now and then on the first day of workshops but were optimistic about the long-term health benefits.
Plus, the clay workshops allow for plenty of creative expression among the seniors, a major factor in keeping their minds active and engaged. In the sessions, Stephanie gets them started on a general shape (e.g. a bowl, or, recently, a seasonally-appropriate pumpkin) and offers design suggestions and technical expertise, but the seniors are free to explore their own ideas with tools and glazes. Stephanie taught Ms. Smith how to mold and attach a clay fish (Smith is a Pisces!) and a "C" for her name to her bowl!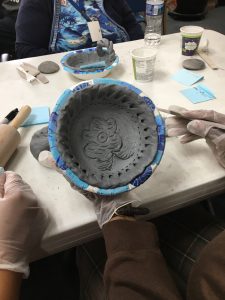 Once Stephanie has fired the pieces in a kiln, she returns them to their sculptors to keep and use. It is wonderful to watch our seniors get creative and each design unique pieces reflective of their personalities!