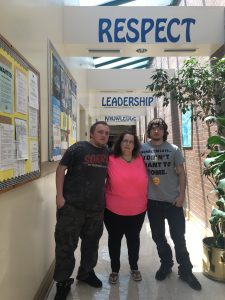 For Kathy Jo Miles, the Crispus Attucks Charter School kind of runs in the family.  The lineage began with her niece, who graduated from the school about seven years ago. Next were Miles' two daughters, who graduated in 2013, and then her son-in-law graduated in 2014. This past June, her "babies," her two sons Michael and Robert, Jr., graduated.
All of her kids struggled in York City schools, Miles said. There was "too much drama," which didn't allow them to learn to their fullest ability, and they weren't motivated to put in the effort to do well.
But when they started attending the YouthBuild-affiliated CACS, where students learn career skills firsthand, that all changed.
"My boys absolutely loved it," Miles said. For the first time, they actually enjoyed going to school and sharing with their mother what they learned at the end of each day.
Michael is more serious, and Robert, Jr. is the clown of the family, Miles said, but they both thrived at CACS. With teachers who truly empowered them by being truly invested in the boys' success, Miles felt welcome to be involved as a parent, too. During graduation, Robert, Jr., who could often be found joking around with teachers, made sure he got his picture taken with Mr. Aaron Beard, a fellow jokester and school staff member.
Post-graduation, both of the boys have applied to college and are waiting to hear back. Michael wants to go to school in Pittsburgh and become a police officer. Robert, Jr. applied to a school in Harrisburg and aspires to be a video game designer.
Their mother is confident that without their experience at CACS and with YouthBuild, they wouldn't have wanted to apply to college. The Charter School gave them "a whole new outlook."