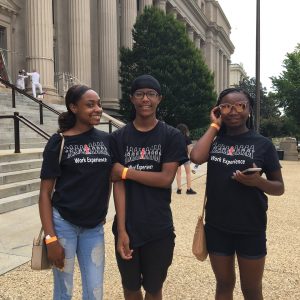 To cap off a productive, fulfilling summer, with new friends and new skills, youth in the Center for Employment & Training's Summer Work Experience Program–over 100 of them!–traveled to Washington, D.C. for the day on August 3.
The trip wasn't all fun and games, though. Aside from seeing monuments and city sites, the young people visited the United States Holocaust Memorial Museum. It was a sobering experience, helping to put into perspective a part of history about which many of them knew very little.
The goal of the museum visit was to drive home the message that words and actions carry power, Mike Barba, CET's Business Manager said. Barba's hope was that by seeing the tragedies of the Holocaust up close like that, the youth would see the importance of that message as it relates to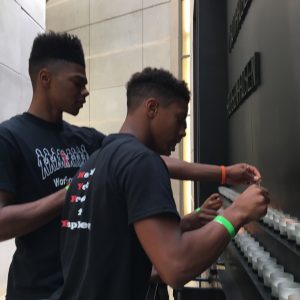 racial and ethnic tensions that still exist in society today.
As they rode back to York on the buses, youth were reflective about what they had just experienced. The jarring imagery and original artifacts were eye-opening and intense, particularly the large pit of tattered and worn shoes that were collected from those in concentration camps. Jasmine, Kaylah, Daniel, and Reggie all sat near each other on the ride home discussing what they had seen and learned. They were all aware of the Holocaust, but visiting the museum helped them understand it better. They realized that it is their responsibilities to help combat discrimination and celebrate differences among people.
Luckily for them, their participation in the Summer Work Experience Program had already given them a great headstart in that mission.
---
Reflective Quotes from Our Students
"The museum was both educational and emotionally moving. The images, videos and objects held years of history and are a living example of how hatred and racism can have an impact on so many lives. They will be forever imprinted on my mind." -Kaylah Grant
"The Holocaust Memorial Museum showed me that I should be grateful. I have gone through a lot in life, but I am grateful that I have a life and it wasn't stolen from me." -Aaliyiah Moye-Tan
"I can't even begin to try to understand how it feels to be ripped from the life you knew and forced into the concentration camps." – Julian Foulk