In the Development Office at Crispus Attucks, we are often removed from the exciting events taking place in each of our programs. Because we hear funny anecdotes and success stories secondhand, it is always a treat to receive pictures from events that make us smile, share a laugh, and feel as if we  were a part of the action. The pictures from the Rising STARS Night of Science were one such treat.
Our Rising STARS program, which emphasizes the importance of education, is embracing new STEAM-focused (science, technology, engineering, arts and math) events and activities to engage youth in the fun of learning. The Night of Science, which featured interactive scientist Eric Energy, was one event among many to help students get excited about STEAM...and excited were they ever!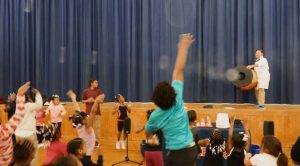 Looking at the pictures, our Development Department feels as if we, too, are in the Crispus Attucks gym, sitting crisscross-applesauce on the floor with a large group of children who are all trying to squirm as close as they can to the entertaining scientist and his dazzling table of science equipment.
The performance, which focused on air and matter, combined lively music with experiments that "required" the help of many volunteers. Our students were captivated and, in many cases, sat with their eyes wide and their mouths open in the shape of an amazed O.
Over the course of Eric's experiments, students got to play with a leaf blower and experience the hair-blowing power of a single ring of a tornado made from a vortex generator. With the vortex fog ring cannon, Eric sent gigantic fog rings through the air at brave volunteers. Of course, once these volunteers were having fun, the whole group wanted to join in! Students then got to see bubbling potions, taste fog and hold bubbles made from dry ice, and see cold dry ice clouds creep across the floor!
They say a picture is worth a thousand words, so what do these pictures say to you? To our Development Department and the rest of our staff at Crispus Attucks, these pictures not only place us in the gym with a wonderful group of children, but they perfectly capture the reactions we want to see everyday among our students - amazement and joy at learning. These reactions remind us what we are working for and show us that we are doing our jobs; we are positively impacting youth's perspective to understand the importance of education. We're looking forward to creating these reactions more and more, with the help of our new STEAM-focused programming.