We all know what little boys and girls are made of, but what happens when they grow up? The seniors at the Crispus Attucks Active Living Center are so much more than sugar and spice or snips and snails in the age-old nursery rhyme. They are seasoned by life's joys and hardships, and they want nothing more than to soak in this seasoning with each other, swapping stories about their pasts and sharing the present.
Shirley is an energetic, talkative lady who incessantly fidgets in her wheelchair. She has a mess of curly hair and can switch from Spanish to English without batting an eye.  Shirley has been coming to the ALC for a mere two weeks, but already feels like an integral part of the community.
She sits at a table with three other ladies. They listen, laugh and sass one another, and apologize when they get carried away speaking with their hands and accidentally bump each other's canes to the floor.
Shirley reminisces about visiting Puerto Rico and speaking Spanish with her closest friends.
"I even find myself dreaming in Spanish," she said, "Sometimes I wake up speaking it." At the Active Living Center, Shirley gets the opportunity to connect with other Puerto Rican women and speak the language she misses so much. She also gets the chance to form new friendships.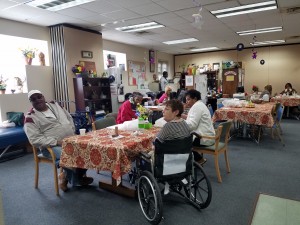 The other women at Shirley's table consist of Pat, Anne, and Joann. Pat, deemed the crazy domino player, has a hearty laugh and a wide, mischievous smile. She, too, loves the community at the ALC.
Anne is the quiet one of the group. She is shy about her life but quick to ask questions to hear the others' stories whether for the first or twentieth time. Anne also comes to the ALC for the community, and for the games of dominoes.
Joann, the final member of the quartet, is a spunky woman with a spice drawer full of stories. She has had 11 brain surgeries, been married four times, and has spent parts of her life in France, Austria, Denmark, and Germany. While in America, she attended York County's first Licensed Practical Nurse course before working as a nurse at Pleasant Acres.
Joann believes that each person is responsible for pursuing the things that add joy and purpose to their life; a person can't depend on others to fill his or her life with happiness or meaning.
"When you die," she said, "no one is going to jump in that bed and die with you."
Mr. Jackson, the oldest Active Living Center senior at 94, had his own gripping stories to rival those of Joann. A World War II veteran, Mr. Jackson served from 1943 to 1945 in the Philippines and in Okinawa. He reminisces about fighting the Japanese and waiting six months at the end of the war for transportation to get home.
"You must be strong in the Lord to survive," Mr. Jackson said. He recalls kissing the ground when he finally returned to the U.S.
Despite the hardships, Mr. Jackson doesn't regret serving his country. "That's why I did it," he said, gesturing to the seniors around him listening, "for you guys. For this."
These five seniors represent only a few of the many adults who pass through the doors of the Active Living Center searching for the missing ingredient, community. Their unique seasoning enables them to swap stories and share in life's sweet, salty, and spicy moments.