Students at our YouthBuild-affiliated Charter School received the amazing opportunity to join the newly formed YouthBuild Pennsylvania Coalition and then visit the State Capitol to advocate the importance of YouthBuild programs. Our school (plus 5 other YouthBuild programs across the state!) met in Harrisburg to provide a forum where students could share their personal stories and explain how YouthBuild has empowered them to be leaders in their communities with their representatives. State Representatives Carol Hill Evans, Edward Gainey, Jarod Solomon, and Mike Tobash later spoke to the youth, providing encouragement and guidance on continuing to work hard and give back to the community.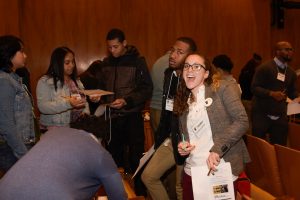 The YouthBuild Pennsylvania Coalition represents individual organizations operating in Allentown, Harrisburg, Johnstown, Knox, Philadelphia, Pittsburgh, McKeesport, Reading and York that sponsor and operate YouthBuild programs.   YouthBuild programs provide educational opportunities and job training for low-income, young men and women 16 to 24 years of age who did not complete high school and are not regularly engaged in the workforce.
The programs also help students enhance their leadership skills and encourage them to make critical changes in their community and their lives. The young people revitalize their communities by building or renovating homes for low-income and homeless neighbors.  In the last three years, 1,243 youth were enrolled in the YouthBuild programs in Pennsylvania.  The students built 66 houses and renovated at least 292 units of affordable housing.  
The YouthBuild Pennsylvania Coalition programs are among over 260 local YouthBuild programs in 45 states, and another 80 YouthBuild programs in 21 countries.  YouthBuild's global movement is rooted in leadership, service and training.  This year, YouthBuild USA is celebrating 40 years of work advancing its mission to unleash the intelligence and positive energy of young people to transform their lives and their communities.