This past August, 90 students filled the Crispus Attucks gym for Mental Toughness training. Preceding every new school year at the Crispus Attucks Charter School, students must participate in two weeks of these mental and physical exercises. Based off the YouthBuild model with which the school is affiliated and led by Aaron Beard, they're designed to instill teamwork, discipline, and determination in students to prepare them for the coming year and, ultimately, life after graduation.
This year, students were visited by YouthBuild's Senior Director for Leadership Development Joel Miranda. Like many of the Charter School students, he's faced his fair share of adversity, and he worked hard to overcome it, partially in thanks to his involvement with YouthBuild.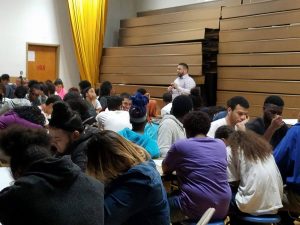 "As I learned to love myself, I learned to love others," Miranda said. A career at YouthBuild allowed him to improve himself, which in turn helped him impact and uplift others.
Miranda spoke to youth at CACS about what it means to be a real-life superhero: "All the young people I've met are superheroes. You are superheroes who haven't found their powers yet. The world can make you live in fear and keep you from developing your superpower, but you must overcome this."
Here are his tips for finding your superpower:
Costume: How do you show up?

Presentation in different settings matters.

Headquarters: How are you investing in yourself?

The goal should be how to become a better person.

Catch phrase: How are you communicating?

Be conscientious of the language you're using in various situations.

Tools/Gadgets: What do you need and what is at your disposal?
League/Group: Who are you associating with?

Surround yourself with people who are good for your development & growth.
Miranda asked how many know friends or family who are in jail because of their friends. Many raised their hands.

Adversaries/Weaknesses: What's getting in your way? And how do you get past it?

Need to be aware of these
Examples given by students: racism as an idea, a boyfriend/girlfriend, or even yourself if you lack willpower or are filled with self-doubt

Superpower: What do you have to offer this world?

What do you have inside you to help change the community?