We must empower our young people to reach their fullest potential so that they are prepared when the "baton" is passed to them. Our goal is not to 'fix' youth, but to develop them. The Crispus Attucks Rising STARS (Striving To Achieve Remarkable Success) Youth and Family Program provides many after-school and summer educational, recreational, and social responsibility opportunities for youth ages 5 to 18 years old.
All youth participate in: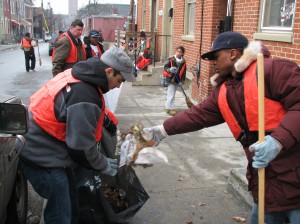 Weekly Life Skills classes that provide gender and age-appropriate empowerment and skills
A minimum of 25 hours of community service each year
Academic Enrichment if they do not maintain honor roll
Optional after-school and summer activities that include:
Annual Martin Luther King Jr. Day of Service
Annual Cultural Thanksgiving Celebration
Black and Hispanic Trivia Nights
Sheriff's After School Fitness & Tutoring
Youth Showcase – Poetry and Short Stories
Workshops on self-esteem, etiquette, study skills, STEAM, and more
Anti-Bullying Lessons
Conflict Resolution
Parent and Child Cafes
Career Planning and Exploration
Community Service Projects
Talent/Fashion Shows
Family Nights
Computer Lab
Computer Animation Classes
Online Music-making through Incredibox
Cooking Classes
Mother-Daughter Tea
Night of Extraordinary Gentlemen
Creative Arts – Dancing, Dramatics, Poetry, Crafts
Teen Talk- once a month
Mentoring Program
Academic Enrichment
Female and Male Responsibility and Life Skills Classes
Kid's Cafes
Chess Club
Speaker Series and Success Workshops
Google Expedition Activities and Virtual Reality Trips
6 week STEAM -themed Summer Camp
South Side Steppers Drill Team
Crispus Attucks Basketball League
CA STARZ Cheer Squads
The Crispus Attucks Association is a United Way of York County Partner Agency. The Rising STARS After School and Summer Camp Programs receive funding from the United Way of York County.